The only thing naughtier than a bad boy is a good girl...
Amara Maria Robles is a good girl. So good that she gave up her dreams of becoming a renowned pastry chef to help her parents with their struggling Mexican bakery. Yet her parents reject any changes she suggests, and refuse to sell her mouth-watering confections. Clearly being a good girl isn't paying off. So when her brother's sexy ex-best friend walks into the bakery, Amara's tempted to be very bad indeed...
After a scandal twelve years ago, resident bad boy Eric Valencia has returned to make things right with his family and friends. One glance at Amara and her wicked curves, however, and Eric finds himself thinking about how she'd feel beneath him—something he promised Amara's brother he would never think about, let alone do.
But this bad boy is in deep trouble...because Amara's determined to have her cake, and Eric, too.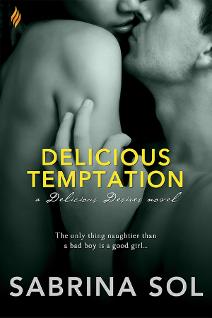 EXCERPT:
"Let me do that," he said, pulling her hands down to her side and moving behind her. He untied the halter straps behind her neck, then touched the zipper. She nearly jumped out of her skin when she felt his soft lips on her back.
"Tell me something," he rasped. "Did you wear this for him? Your answer will determine how I take this dress off of you."
A thrill ran up her body. She tried to answer, but she could barely breathe.
He moved his lips to the side of her neck, just below her jawline, making a delicious trail of light, butterfly kisses that electrified every nerve. When he reached around and started caressing her breasts, she moaned in satisfaction.
"Well, I'm waiting. Am I going to rip this dress right off you so you can never wear it again, or am I going to slide it off your body using only my teeth?"
Her thighs quivered at his sexy threat. Either way sounded absolutely wonderful. She tried to regain some sense of control so she could answer. "I didn't wear for it him because it wasn't a date," she admitted, scared and excited about what he'd do to her for letting him think it was. "He just wants me for my baking skills, to work in his — "
More words escaped her as she felt him pull the zipper down with his teeth. Her breasts strained against her black lace bra, the friction hardening her nipples. When the dress finally fell to the floor, Eric's mouth traveled up her body. Her knees buckled when she felt something wet and hot against the back of her thighs.
She groaned. And when he licked her, just along the seam of her thong panties, she groaned even louder. Eric's mouth on her skin was beyond anything she could've ever imagined. Heat flared wherever he touched her, however he touched her. She wasn't just melting. She was combusting.