What would you do if you had the chance to sleep with your unrequited high school crush?
If you're former geek Magdelena Cruz, you'd do him in a heartbeat. But you'd lie about your true identity first and hope your new sexy persona is enough to create a night neither of you will forget.
Workaholic assistant DA Will Hudson doesn't have time for a love life. Expecting to scratch an itch with a willing stranger, he signs up for Madame Evangeline's 1Night Stand experience.
He has no idea that his date is no stranger. A reunion between two classmates will be hotter than the scorching Las Vegas sun. But will the heat be enough to spark something deeper, or will they both end up getting burned by Magdelena's charade?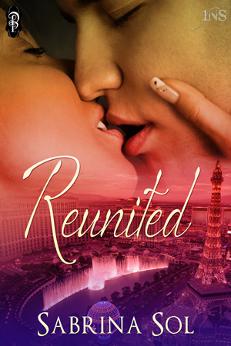 Excerpt:
Standing in front of the door to the suite, she let the magnitude of the moment sink in. All logic and practicality fled. She'd left both back at home with her pocket protector and sensible shoes. The situation called for her to be impulsive, daring and confident.
If you are, then he will finally be yours…
She smoothed her dress, adjusted her bra, and blew into her hand for a breath check. Satisfied, she slid her key card into the slot and pushed the door open
A blaring TV welcomed her. Not that she expected a violin serenade, but she hadn't planned on competing with a basketball game for her date's attention. She frowned
"Pass the ball, you idiot!" Will shouted
Tingling from head to toe at the sound of his voice, she released a slow breath
It's now or never, Magdelena
"Hello?" she called
The TV turned off instantly. A second later, he walked into her view
Her throat tightened.
The years had been good to him. No, they'd been great to him. Although she'd seen pictures on the alumni website, they didn't do him justice. Every visible inch of his body appeared chiseled from stone. A dark gray shirt and black slacks perfectly accentuated every muscle. He wore his dark hair shorter than she'd seen in the photos, but his blue eyes were more piercing than ever. He looked her over, settling on her cleavage and her nipples that had come to attention the minute she saw him. Then he raised his eyes to meet hers.
"Hello, Elena." His deep voice lit her soul on fire.
He doesn't recognize me. This plan might work after all.
PRAISE FOR "REUNITED"
"Reunited by Sabrina Sol was such a sexy delight!" -- Nina, Nina's Literary Xscape
"Very entertaining and filled Latin spice. 4.5 of 5 diamonds." -- Evie, In Love with Romance